here's angela's last personal shopping request from her prior post:
I need some moderately dress-up pieces for fall/winter/the holidays (not too dressy). Maybe a dressier jacket or a cute skirt. My wardrobe mostly consists of business wear or casual. I need a bit of dressy spice.
to be honest, i'm not 100% sure of my mission....i can't tell if you want party clothes or work clothes that are a little more dressy. so, i'll give you a couple of options that would go either way.
the first is the
raspberry bolero jacket i featured a few weeks ago
that will be in the holiday isaac mizrahi collection for target. i think it's the perfect way to jazz up a black dress, or a black skirt with turtleneck would be awesome with it as well. you could even throw on the turtleneck and jacket with jeans, and get a funky chic thing going.
another option that's a little more day-to-evening is velvet. for the money, i think
this jacket
is a gorgeous option - i love the teal color, and the ribbon does wonders for tailoring it to your waist and making it more feminine. the options here are endless - jeans, tweed skirt, black slacks, sparkly top....you could play with this for ages!
and, i happen to love
this swing jacket by banana republic
. it embraces just a touch of the cape trend that's so hot this fall, but i think it's much more wearable.
as for skirts, my first two stops are always
anthropologie
and
boutique ooh la la
. both have dozens of gorgeous options. for holiday fabulousness, i just think
this is as good as it gets
.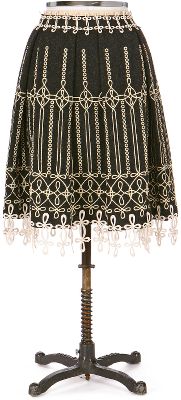 but if you're looking for something a little more understated,
this one
strikes me as something you'd love. i also really like
this one
(perhaps because i own it). lots of options...and you certainly can't complain about the pricing!
so, those are my ideas for you - hopefully you'll find something fabulous there that you love :)