so, here's what
J
said she wanted:
I need a list of 'basics' that I need in my closet, from there, I will do an inventory, and determine what I'm missing. THEN I would like a list of 3-4 trendy 'must haves' to keep the wardrobe fresh and cute.
your wish is my command, my dear. a couple of caveats: one, this is going to be my general list for everyone - i'll note differences that would apply for you where necessary. two, this is a
basic
list...a starting point that is in no means intended to hinder shopping for other things. this is just kind of a framework within which you should be able to put together a look for just about any occasion.
wow, what a task! okay...here goes. first, the basics:
bottoms:
3 pairs of jeans:
one
boot cut
, one
straight leg
, and one
trouser jean
. darker washes are better (i love the black straight leg jeans i linked above), and the different cuts will allow you to pair with just about anything. the straight leg will be in style much longer than a skinny jean would, IMHO, so if you're going for classic pieces with longevity, i'd go for a straight cut. the boot cut will always work, so it's a great classic. and the trouser is perfect for when you want to wear denim, but you want it to look more polished.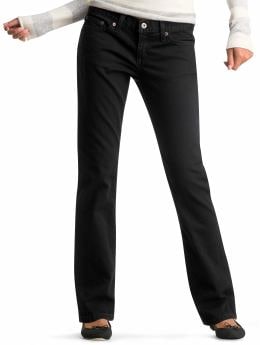 3 pairs of dress trousers
3 pairs of casual khakis/chinos:
i'd go with a tan, a black, and maybe a fun neutral like
green
.
(note for J: i'd probably do 4 casual and 2 dressy for you, given your day job)
3 skirts:
one black pencil skirt, one tan, and one spring-type skirt (white eyelet, chiffon/flowy material, something along these lines). you could easily add a
wool or flannel a-line skirt
here as a #4, especially given the trend for skirts with tights this fall.
tops:
3 sweaters:
solid colors, fine knits (body skimming, not chunky). something like
these
or
these
. i'd invest in at least one good cashmere sweater, if you can swing it. if you buy smart, you'll have it for years.
2 cardigans:
i'd go with one chunky and one tailored.
1 white button-down shirt:
spend time finding the right fit, and this will go with anything. i'd stay away from trendy details like ruffles, and go with a classic like
this one
.
1 turtleneck:
whether it's a sweater or just knit, make sure it fits close to your body. it'll go with anything.
5 miscellaneous solid-color t-shirts/tank tops:
for layering, think neutral colors.
1 great blazer:
classic style that you can mix and match to dress up any outfit. i also like
this one
and
this one
.
1 great dress:
my choice, if there will only be one, is the LBD. it should be a classic style that can be dressed up or down, and will always make you feel fabulous :) i love
this one
, and you certainly
can't go wrong here
.
accessories:
i can't possibly go there...to each their own. for shoes, i think as long as you have 1 pair of
fabulous black pumps
, 1 pair of
strappy sandals
, a couple of
classic flats
, and some
trainers
, the rest is entirely up to you!
and of course, handbags, coats, jewelry....that's an another post entirely :)
trendy additions:
if you want to bring your wardrobe
au courant
, here are a few key items that should do it:
1 pair of tights or leggings:
i'll be reaching for tights, personally...but one or the other is a definite must for fall.
1 tunic top:
for the leggings, for the straight leg jeans...these are
everywhere
.
kimono-inspired pieces:
i think these are so flattering, and very current.
basic
,
patterned
, or
as a dress
, you can't go wrong.
last but not least,
i'd tack on an oversized handbag (
this one in patent
also gets you in on another trend for fall) and a pair of
platform pumps
...and you'll be set for fall!
one final tip regarding adding all of these new items to your wardrobe. i'm not quite of the school that everything has to match everything else...but i do think there's some virtue to sticking with a neutral palette, and adding in a few prints/colors here and there. it will make your new pieces more classic and timeless, and you're less likely to get tired of them. plus, when you can't figure out what to wear, it's tough to go wrong if things are well-coordinated.
whew! i'm exhausted :)