just dropping off a couple of pieces i've run across this morning from the summer sales that i think would work fabulously for fall.
first, if you happen to be a size 2 (
ahem, j
), you should snatch up
this darling jersey dress
by james perse for $77 in the saks sale immediately. it's only available in black, but this would be a completely excellent work dress, and could even be easily jazzed up for cocktails. plus, nothing is as yummy soft and comfy as james perse cotton. truly fabulous.
same goes for this gorgeous (not to mention flattering)
dress by vince
, down to $110 in the sale. love the marine blue color, love the cut, and again, looks super comfy and perfect for work.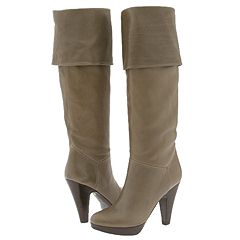 for some unknown reason, zappos has marked a ton of l'autre chose boots down by 40%just in time for fall. i love these
grey foldover boots
, which i think would actually be pretty comfy with that nice platform on the toe (you can also
snag them in beige
, which would be equally fabulous for fall). or, if you love the riding boot look,
these
are a great choice
(i love that they have the riding boot style, but still have a heel...so much more versatile!)
. check out the rest of the goods
here
.
and, last but certainly not least,
this minidress by julie brown
would be just so hot with a
long chunky cardigan
and
heathered tights
in a couple of months...for under $60, that's about the best deal around.