well, at least according to my new
anthropologie
catalog!
a few things i'm loving:
this t-shirt
by guinevere just screams spring - it will look great with jeans while it's still cold, but when summer hits, picture it with white shorts or a great eyelet skirt and a pair of espadrilles. too darling! $78 in store and online.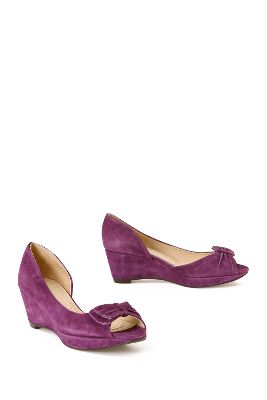 for those of you that missed out on those
loverly purple patent flats at jcrew
in the fall,
anthropologie has a great version
for spring. granted, it's in suede...but spring is really the only season in which you can actually wear suede without stressing. and, it's a peeptoe wedge, which takes away the two "high maintenance" areas on suede shoes (for me, at least): the toe and the heel. plus, the bow and the semi d'orsay style are just too cute to pass up :)
$128, but get them fast
...i'm telling you, i was right about the last ones selling out, and these ones will too.
i have to admit, this next one looks dreadful
in the online pic
...but in non-studio lighting, on an actual human (as in the pic at right), i think it's just perfect! great drape, the perfect red color - it would definitely be my "go-to" ensemble for the spring.
buy it for $128
- just don't trust the picture on the website!