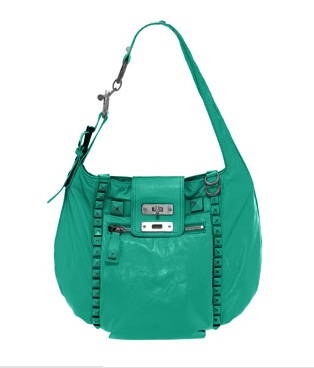 well, it seems designers are hitting this 80s revival thing pretty hard...the latest blast from the past to show its face is a resurgence of the punk trend that was so hot way back when. sure, it was showing up in dashes here and there over the spring/summer '06 season (those little metal studs on handbags were all but impossible to avoid), but it's much more overt now....there's no denying the punkitude going around the fashion world.
marc jacobs (your friend and mine) has gone all-out with his "sweet punk" line. the leather (ahem, kangaroo leather, by the way) is beyond ridiculous....it's so soft, i can't even tell you. they're studded with hand-painted, hand-placed metal studs and come in all manner of fantastical colors. but, the bags are priced accordingly - that gorgeous green bag up above is $1,800, and they go up from there.
michael kors is following suit with a leather shopper that is, thank goodness, steering him clear of all of the fringe he was putting out last year. this bag is a great modern twist on a classic tote...i like that it rocks the punk vibe without going quite as far as marc has.
since i'm guessing most of us don't want to blow four figures on a trend that's sure to be past its prime sooner than the milk in your refrigerator, here are a few ways to be hip without having to sell your plasma.
from nordstrom,
this little number
sells for just $15...really. also available in black, but i think the white is super hot. you know, "white hot"....sigh, i have visions of
pretty in pink
running through my brain.
or, for $48, you can pick up
this super cool studded tote
- bonus is that a portion of the strap can be detached & made into a belt, thereby completing your punky new look! (note: beware, the rest of that site is probably a little NSFW).