oh, how i love reader questions! this one's from
melissa
:
I got a promotion & now have a strict "office casual" dress policy. I'm looking for affordable interchangeable options ASAP. Oh, and slacks - a staple of every woman's wardrobe, right? Can't find a pair that fits my badonkadonk and my waist. Help!
how i sympathize. while it's true that most people in my line of work
(day job, people...if i blogged for a living, i'd go to work in my favorite cookie monster fleece pants!)
have to dress pretty conservatively, i'm fortunate enough to be in the minority that doesn't have to wear a suit every day. less constraining, true, but sometimes freedom is stressful. i mean, how do you decide if trouser jeans are okay? or skirts - how short is too short? decisions, decisions.
so first, a little discussion about what i think "business casual" means for most of us. i tend to err on the side of overdressed, based on the theory that no one will ever question your professionalism and competence if you're overdressed, but there's a chance they'll do it if you're underdressed. plus, there have been occasions when i've wanted to give a staff person grief for wearing jeans to work, only to look down and realize i was wearing jeans too. granted, i'm the boss....but still.
so, rule one
(eh, let's not use "rule"...how about "guideline"?)
: no jeans. that includes trouser jeans, i'm sorry to say.
guideline two: i know minis and darling short dresses are all the rage right now, but i really think knee-length for skirts & dresses is the safest way to go. if you do need to go above the knee, keep it less than 4 fingers above the kneecap, and add a pair of very opaque tights
(no leggings, please)
. no bare legs and short skirts, period.
guideline three: when in doubt, go boring. i love daring fashion as much as the next gal...maybe even more. but if you're unsure, i'm telling you - better to be appropriate but boring than...well, whatever the opposite of that is. seriously. a twinset and slacks will never get you fired.
okay, now for the fun stuff: the shopping! first, i love dresses for work. they're so easy and so flattering
(especially for those of us with that high waist-to-hip ratio my darling reader mentioned)
- whenever i'm having one of those "i have nothing to wear" days, i alwaysalwaysalways reach for a dress.
my two favorite options are a wrap dress, which is just always perfect, or a classic a-line. remember, this is your go-to option when you feel like nothing's working, so you want a dress that's always going to feel flattering and fabulous. i love, for instance,
this wrap dress at boden
is a great classic choice, and under $100. for a great a-line classic option, try
this cap-sleeve sweater dress
by banana republic, also under $100. this piece is going to be a great staple, perfect for layering under a cardigan or even with a white blouse underneath. gap has
a similar version
for under $60, though i'm not as crazy about the cut, and would suggest ordering it in tall sizing
(and wearing those opaque tights we talked about above)
to keep this one office-appropriate.
as for slacks, i'm going to steer you toward the new crop of "curvy" fit options. they're designed to accommodate exactly the issue you've mentioned, and i think you'll find they work beautifully. you can find them at
banana republic
and
gap
.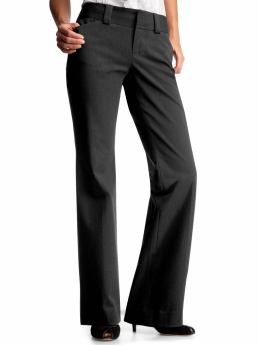 stay clear of skinny pants - too trendy. also, no pleats, ever - they're not flattering on anyone. i'd also stay away from cuffs - they aren't bad, necessarily, but i think the cleaner the style, the more wearable the pant. wide leg pants are very flattering and stylish (if they're cut properly), but don't go too wide, as you want them to be in style for a long time so that you're getting the most bang for your buck, so to speak. my first choice are the
contour pants at banana republic
, which come in a variety of fabrics and will run about $100. i particularly like the
lightweight wool version
, which would have a really nice drape. for a less expensive option, i like
this classic style from gap
- they're cotton, but have enough polyester and spandex in them to keep them from attracting lint and wrinkling.
for tops, i think layering is the best option for most office attire. cardigans, wraps and blazers are your friend, as they let you dress up weekend tops for work, and add a ton of versatility to your closet, assuming you have enough base layers to start with. if not, check out
this short sleeved sweater from gap
(i know, lots of gap pieces...what can i say?), which is down to $25 on sale, and would have endless versatility as a base layer, but will also look good on its own.
for top layers, i love
this blazer/cardigan hybrid from bloomingdales
- i think it would be a perfect addition to your work wardrobe, and it's marked down to $69, which is a fabulous deal.
i also happen to think this
lightweight mesh cardigan
at anthropologie is pretty fabulous - it's a steal at $58, will be incredibly versatile in black, and i think it adds a degree of professional to a very generic, t-shirt and slacks ensemble. it would also be perfect over a dress, when the office A/C gets a little out of control.
okay, hopefully that gives you a little bit of help. i could have gone on and on
(and on...)
, but i think the idea is to give you a framework, and you can figure most of this out from there. just remember to err on the side of caution, and i think you'll be fabulous! oh, and congratulations on the promotion!!!
(ps...if you're thinking "wow, that was such a fabulous answer to that reader's question...i sure wish this blogger would help me out!", good news. you can email me at shoppingsmycardio@gmail.com, and i'll be glad to do whatever i can to ease your fashion woes!)