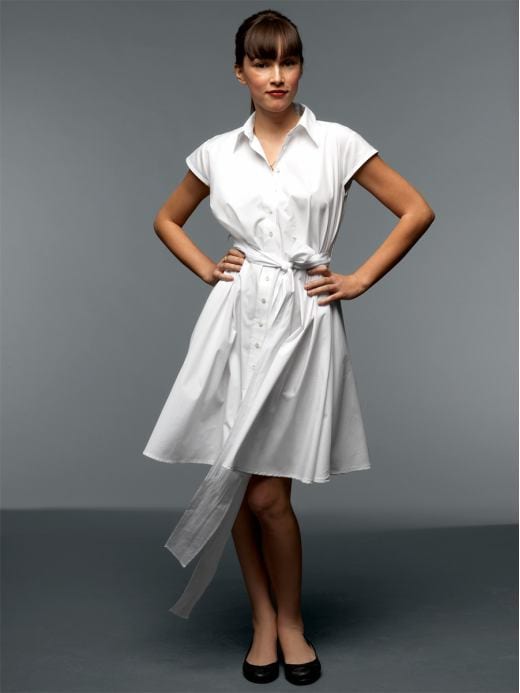 it looks like
the gap
has jumped back on the cheap-couture bandwagon. they've
teamed up with a handful of high-fashion designers
(think
doo.ri
and
thakoon
, among others) to see what the designers would do to renovate the classic white button-down shirt. and it turns out, they had some pretty fabulous ideas.
my favorites are the dresses - i scooped up
this one
by doo.ri ($88), and am looking forward to seeing how it fits. if you're not feeling the 50s vibe quite as thoroughly as i clearly was when i bought,
thakoon designed one
($78) with a much narrower skirt that would be fabulous on its own, or under skinny black pants.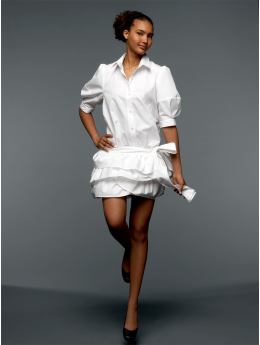 i'm not a fan of all of them, i have to admit. the
petal skirt model
by thakoon
(at right)
is darling on the bottom, but the huge puffed sleeves on top just make this one way too, well, puffy. now if they'd made it sleeveless, we'd have a winner for sure. and the
bow blouse (by rodarte)
just looks like it couldn't possibly flatter anyone...i mean, it didn't even flatter the model, for heaven's sake.
but, the good ones are good - and definitely worth a look. if you have killer arms and a small bust, the
trapeze top
($68) would definitely be a winner - though since my stats are precisely the opposite, i'll be staying far, far away. the thing i'm loving about all of these is that they're still classic, just with a twist. and the color just screams 'blank canvas' to me...i can see these working with a gorgeous scarf, maybe a colorful belt...the possibilities are definitely there.
snap them up while you can - gap's last designer collection sold out so fast it never even made it to the website! this line has only been up since this morning, and the small sizes are going fast!