a dear friend emailed me recently, as she's traveling to paris this summer (i'm not jealous at all...really), and wanted some recommendations for stylish, comfortable shoes.
paris is the city of lights, but it's also the city of walking. everywhere. until you just can't take it any more, when you sit down at a cafe and spend 3 hours sipping an espresso, if only so you don't have to walk anywhere for a while! the catch, of course, to all of this walking, is that you have to remain chic at all times. no athletic shoes, no exceptions. so, how do you avoid making your feet bleed?
first a few general tips:
1, buy shoes that are 1/2 size larger than normal...for two reasons. first, your feet are going to swell like crazy as you walk, especially if it's during warm weather. and second, when your feet are really hurting, you may end up having to wear socks or an insole to help them out a little - and you want room in your shoes to do so.

2, a good insole is probably the best investment you can make. find one that fits your foot perfectly, gives you serious arch support, and is thin enough for a heel or a flat, and you're going to have very happy feet.

3, break your new shoes in. wear them around your house....a lot. wear them to work. try them out. do not - i repeat, do not - take them fresh from the box and put them into your suitcase. your feet will bleed.

4, take band-aids. just in case.
okay, on to the fun part...the shoes!
my first suggestion is this little 2" heel by arturo chiang. i've worn a lot of heels in my day, and i have to say that this designer does comfort better than just about anyone. the woven front will give you much-needed ventilation, a 2" heel will be chic but still walkable, and this gorgeous cognac color will go with anything, and be perfect in the summer. also, only $50 at
smartbargains.com
- can't really beat that!
on the other end of the spectrum are
these heels by prada sport
. i have these in a mary jane style and, while they did take a bit of breaking in (remember, italian shoes run narrow), they're as comfy as shoes get now. details to note include the rubber sole (for absorbing shock as you stroll over miles and miles of pavement and/or marble flooring), and the padded heel, which should make these just about blister-proof. and again, the 2" heel is going to keep these from making your calves sore, as a 3" or taller heel might do. much pricier than the first selection, at $325, but they're a shoe you'll reach for again and again. you can find them at
neiman marcus
(and get free shipping with code TRENDNM)
.
if we're being honest, though, a heel isn't going to work for the day you decide to trek out to versailles, or you insist on seeing every room in the louvre - for the serious walking days, you're going to need a flat.
i generally wouldn't suggest a ballet flat for this purpose, as they tend to have a very thin sole, which is a recipe for disaster in this scenario. but, i really like
these ballet flats from cole haan's g series
...the rubber sole is a must, and i think if you added a nice, cushy insole, you'd have a very serious walking shoe on your hands (or, on your feet, as it were). i also like the side ventilation, which will be really important for any serious amount of walking, particularly in the summer. $155 at
cole haan
.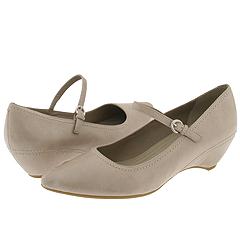 last but not least, this is really neither a flat nor a heel....but it's by ecco, a brand that's known for comfort. and it's actually pretty darn stylish. at $135, this shoe falls comfortably (no pun intended) in the middle of the price spectrum, and i think it would be a great all-around choice for paris.
pick them up at zappos
and give them a try (they're also available in black).